This was the situation of SULCO Automotive Group, whose owner and employees needed to concentrate fully on providing services to clients and did not want to waste time worrying about IT operations on a daily basis. AlgotechCloud and Algotech's other services were the solution..
The decision was made right from the start that the new company would focus primarily on what it is strong in, i.e. specialized services for clients, and outsource IT operations to an experienced and reliable partner to the maximum extent possible. "Our company's mission is to provide excellent service to car manufacturers and their suppliers - services such as interim management, quality management, production planning or logistics management, but also web application development or robot programming. We expect the same quality service on the other side - from our suppliers, for example in the area of day-to-day IT operations," says Pavel Rom, owner of SULCO Automotive Group.
The company's management knew it needed adequate information technology, and it also knew it needed it fast. So its representatives looked around the market and selected Algotech from all the possible suppliers. "We liked that the people at Algotech understood our needs, and we also appreciated their overall positive attitude. But the most important thing for us was that they promised to get all the solutions we needed up and running very quickly," explains Pavel Rom of the decision-making criteria.
What do we provide for Sulco?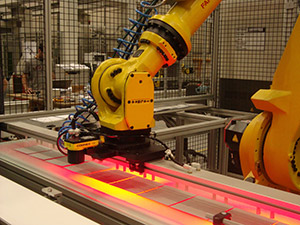 Algotech now provides a range of IT services for SULCO, including the operation of an email server and technical environment for websites, and the management of computers and office software. Algotech's secure data centre also hosts the company's attendance system on a virtual server and houses its shared drives. Algotech experts also performed a GDPR analysis for SULCO and ensured that appropriate solutions were implemented to ensure compliance.
Like many other Algotech clients, SULCO also finds it interesting that it does not have to invest heavily in infrastructure when operating IT in this way. The company only pays for the specific services it uses.
"Initially, the main thing that was important to us was the quick and smooth start-up of the entire project and Algotech's ability to provide all the necessary services for us. Now we appreciate the high availability of all the solutions provided. It is essential for us that we can rely on them completely. At the moment, we are also seriously considering running a corporate security solution with Algotech." Pavel Rom, owner of SULCO Automotive Group
IT services from the cloud
Also in this case, Algotech's cloud, called AlgotechCloud, is behind the services provided to the client. It is a collection of technologies and services that make it possible to keep corporate IT running without a large upfront investment in the vendor's infrastructure. The services offered are available to large and smaller companies, government, as well as individuals. The cloud runs in Algotech's own data centre connected to the main Internet node, which allows to ensure not only high security and flexibility, but also the aforementioned high availability of services.
"Companies appreciate our ability to understand them, respond quickly to their requirements and ensure that the services they need are operated with the highest level of reliability. The fact that the services are provided by a local company that treats them as equals is often important to them. We are always happy to welcome them to our data centre in Libčice, where they can see for themselves its qualities and also see our hardware, which guarantees maximum reliability of the services we offer." Lukáš Pirkl from Algotech
About SULCO Automotive Group:
SULCO Automotive Group is today a major international provider of quality and production management services for the engineering and automotive industries. It has started its activities in the Czech Republic, Slovakia, Hungary, Poland, Romania, Germany. SULCO wants to be an innovator in established standards, where its services and products will be based on customer needs and will be a significant added value for clients. The product portfolio includes Interim Management, iQ-Wall, Control & Rework and Personal Agency Support.