Basic principles of creating PowerPoint presentations
As you know, PowerPoint is one of the many applications in the widely used Microsoft 365 office suite. Adhering to the basic principles of PowerPoint presentations is key to successfully communicating your ideas and information. PowerPoint is one of the most widely used visual presentation tools, and using it correctly can have a major impact on the effectiveness and success of your presentation. Adherence to the basic principles is therefore essential. Which ones are?
Simplicity is key: Aim for simplicity when creating your presentation. Less is sometimes more. Too much information on one slide can be confusing to the audience.
Consistency: Make sure your presentation has a consistent look and style. This includes using the same fonts, colors, and graphic elements throughout the presentation.
Visual elements: use visual elements such as charts, diagrams and images where appropriate. These elements can help viewers better understand and remember information.
Why use PowerPoint templates?
PowerPoint templates are an important tool that can greatly simplify the process of creating presentations and make them more visually appealing and professional looking. PowerPoint offers a wide range of predefined templates that can save you time while ensuring your presentation looks professional. You can customize these templates to suit your needs. You can also create custom templates if you want to have complete control over the look and design of your presentation. We'll talk more about these at the end of the tutorial.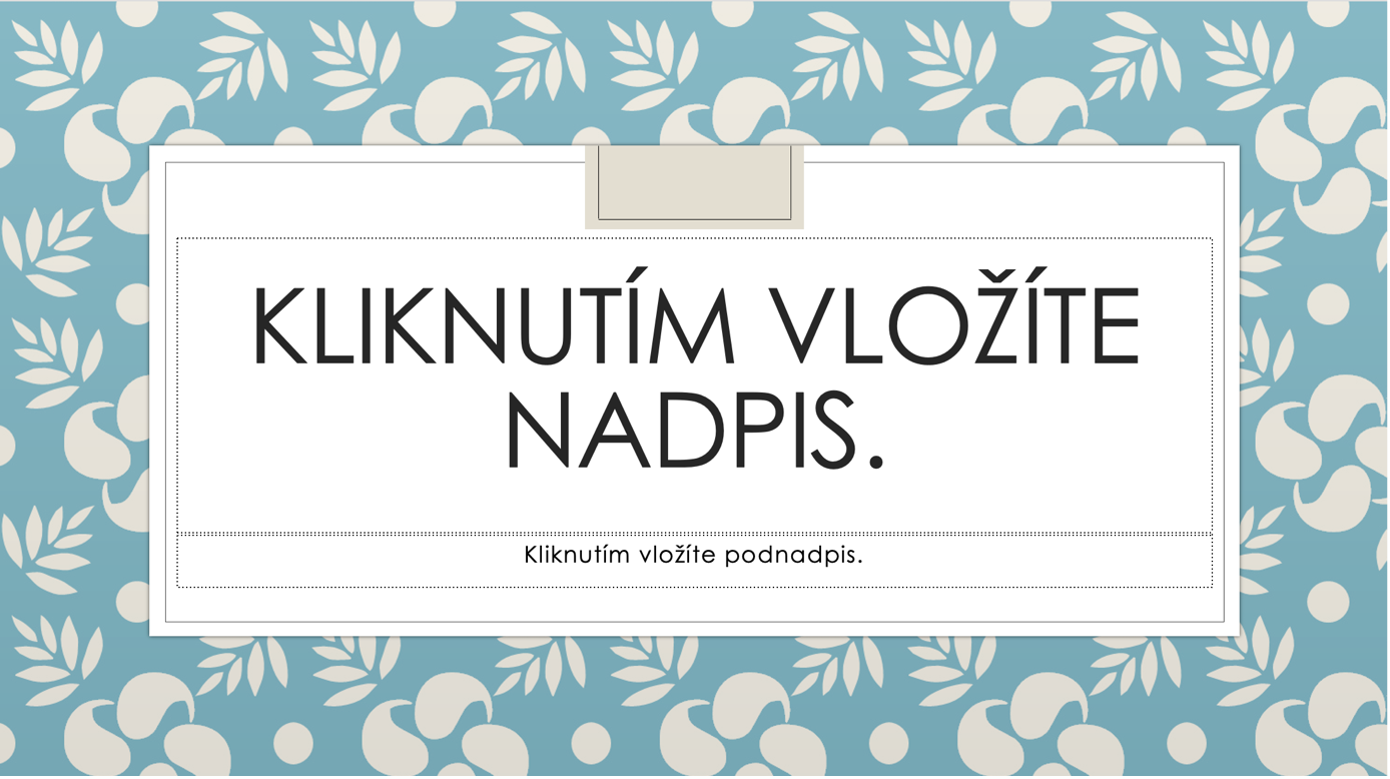 PowerPoint backgrounds and themes
Backgrounds and themes can greatly affect the look of your presentation. PowerPoint offers many options to customize backgrounds and themes to your liking. Remember that even the background should be simple and not distract from the main content of the presentation.
Each PowerPoint theme includes a background that comes in different forms. It can be pure white or include a solid or transitional color, a textured or patterned fill, or even an image. Switching to a different theme will automatically change the background of the presentation.
Background colors are defined according to the selected theme. So if you change the color scheme of a theme, PowerPoint automatically updates the background to match the new theme colors.
If you like a particular theme with its color scheme and fonts but want a different background, you can easily use a different one on all slides or just on selected slides.
PowerPoint designs
PowerPoint offers a "Suggestions" feature that automatically suggests different formatting and design options for your slide. This feature can be very useful for creating presentations quickly. Suggestions should be used as inspiration, not as a final solution. Always make sure that the design matches your content and presentation objectives.
PowerPoint designs are a tool that allows you to create presentations quickly and easily without having to spend a lot of time manually formatting them. This feature is a great tool to ease the creation process and add a professional look to your slides. The main goal of the "Suggestions" feature is to offer you several options to visually customize your slides to better support your content and emphasize the key points of your presentation. These suggestions can relate to colors, fonts, layouts and graphic elements. They make it easy to choose the style that best suits your topic.
The key points of PowerPoint designs:
Easy and quick to create: with automatic design, you instantly get professional-looking presentations without having to spend hours on manual editing. This is especially useful if you need to prepare a presentation quickly and don't have a lot of time for graphic editing.
Design variety: Designs can include a variety of formatting types, including different color schemes, font styles, text and image layouts, and other design elements.
Customization of designs: You can change colors, fonts, layout and other elements.
What not to do when creating a PowerPoint presentation
When creating a PowerPoint presentation, there are a few things you definitely shouldn't do. These mistakes can reduce the effectiveness of your presentation and discourage your audience.
Image clutter: too much information in one image can be confusing for viewers. Try to stick to the rule of no more than 6 points per slide.
Too many animations: Animations can be effective if used correctly, but too many animations can be distracting and detract from the main content.
Reading slides by the presenter: Slides should serve as a visual support for your talk, not a script. Try to speak freely and use slides as a reminder of main points.
PowerPoint template versus theme
You may find the meaning of the terms theme and template a bit confusing. Themes and templates in PowerPoint are two key features that allow you to create professional-looking presentations. Although they may seem similar, there is a real difference between them.
1) A PowerPoint theme is a set of preset design elements that you can apply to your slides. These elements include fonts, colors, visual effects, and other aspects of your presentation's appearance. Themes are designed to create a consistent and professional look across the entire presentation. You can access the default themes by navigating to the Design > Themes tab.
Consistency of design: Using a theme will ensure that all your images have a consistent look and feel. This can help reinforce your main points and keep your viewers' attention.
Variety of options: PowerPoint offers a wide range of predefined themes that you can use for your presentation. You can also create custom themes if you want to have full control over the look of your presentation.
Easy to apply: the themes are easily applied to all slides of your presentation. Just select the theme you like and PowerPoint will automatically apply it to all your slides.
2) A PowerPoint template is a set of ready-made slides into which you can insert your content. Templates are designed to make the process of creating your presentation easier by providing a predefined structure and design.
Quickly create a presentation: using a template you can quickly create a presentation. Just insert your content into the predefined fields and your presentation is ready.
Professional design: the templates are designed by professional designers, so you can be sure that your presentation will look good.
Different option: There are many different templates that you can use depending on the theme and style of your presentation.
While the theme creates the overall look and feel of the presentation, the template provides a predefined structure into which you can easily insert your content. Both of these features can help you create a professional-looking presentation with minimal effort.
A few words in conclusion
In concluding this tutorial, it is important to emphasize that following the basic principles when creating a PowerPoint presentation is key to successfully communicating your ideas and information. Regardless of what tools or features of PowerPoint you use, it is important to remember that your presentation should first and foremost be clear, consistent, and visually appealing.
Step-by-step guide to great presentations: Introduction to PowerPoint
If you're intrigued by the topic of creating effective PowerPoint presentations and want to learn more about how to take advantage of the tool's full capabilities, we encourage you to read the article entitled PowerPoint from A to Z: Become an Expert at Creating Presentations. In this article, you'll find a comprehensive beginner's guide that walks you step-by-step through the process of creating presentations and introduces you to important features such as creating templates, selecting themes, and working with animations.